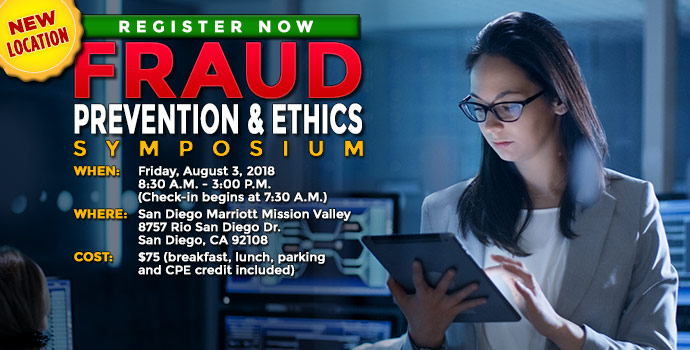 Fraud can impact organizations both large and small, and this is an opportunity for you and your staff to stay informed. Please join us to learn about trends in fraud prevention strategies. This is an important symposium you don't want to miss!
See what your peers are saying about our Symposiums!
Agenda
(Tentative, subject to change.)
7:30 AM

Registration/Breakfast Buffet

8:30 AM

Welcome Comments

Dan McAllister; Treasurer-Tax Collector; County of San Diego

8:40 AM

Advancing Good Governance with a Healthy Dose of Sunshine

Betty Yee; State Controller; State of California

9:00 AM

Lights, Camera, Conspiracy: An FBI Case History
An in-depth look into a procurement conspiracy that encompassed six different companies, twenty large-scale public projects, four systems of money laundering, hundreds of false invoices, thousands of fake products, nearly $9 million in public contracts, and one of the nation's largest airports. Over five years, this conspiracy rigged, defrauded, stole, and bribed its way to well over $5 million in illegal gains. Gain an understanding of how procurement procedures were corrupted from the inception through delivery of the product and learn the "red flags" of procurement fraud.

Kyle Scheatzle; Special Agent; Federal Bureau of Investigation

10:20 AM

Break

10:30 AM

Purchasing and contracting: Is your organization at risk?
An insider's perspective highlighting recent case studies and lessons learned. Our panel will discuss the importance of segregating high risk purchasing functions within your departments and ways to mitigate losses.

Moderated by:
Jack Pellegrino; Director of Purchasing and Contracting; County of San Diego

Panel Speakers:
Miriam Singer, CPPO, FCCN; Chief Procurement Officer; County of Santa Clara
Andie Loree; Consultant, Business Advisory Services; San Diego County Office of Education

11:30 AM

To CATCH a Thief!
You've seen the ongoing headlines about municipalities, school districts, and special districts getting hacked, phished, or scammed. Cyber-crime and identity theft are on the rise, but there is help! Members of the CATCH (Computer and Technology Crime High-Tech Response Team) will discuss their role as a regional resource and how to reduce your vulnerability.

Moderated by:
Mark Varnau; Detective; San Diego Sheriff's Department

Panel Speaker:
Felipee Chee; Investigator; San Diego County District Attorney's Office



12:30 PM

Lunch is served

1:00 PM

Lessons in Scandal!
Our panel of investigative reporters will discuss local examples of fraud and unethical behavior in a public setting and what could have been done to prevent these embarrassing stories.

Moderated by:
Cliff Albert; News Director; KOGO Radio

Panel Speakers:
Scott Lewis; Editor in Chief; Voice of San Diego
J W August; Investigative Producer; NBC San Diego
Ashly McGlone; Reporter; Voice of San Diego

2:00 PM

Break

2:10 PM

Preventing Fraudulent and Unethical Behavior
Reduce the chances of your organization becoming a victim! Learn fraud detection and prevention strategies, and how an organizational ethics policy can help set "the tone at the top."

Dana Basney, CPA, CFE, CIRA; Retired Managing Director; CBIZ MHM, LLC

3:00 PM

Program Concludes

Deadline to register: July 29, 2018, or until filled to capacity.
Seating is limited; register early!
Registration Form