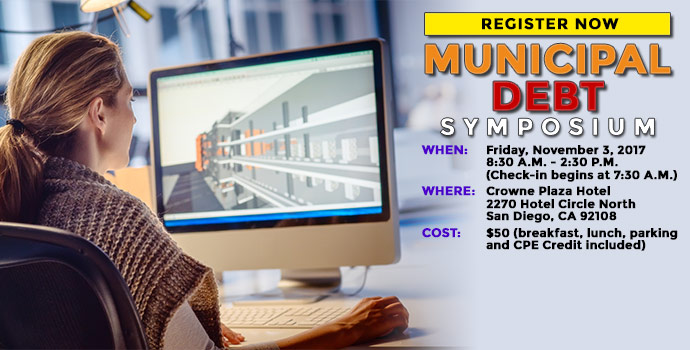 This symposium is designed to educate public entities about the aspects of municipal debt financing including bond elections, bond pricing, financing alternatives and communicating with investors and rating agencies. This symposium will provide a great opportunity to prepare staff to meet upcoming challenges involved with today's debt issues. A must-attend!
Registration has closed.
Join our email list to receive information on future symposiums.
See what your peers are saying about our Symposiums!
Agenda
(Tentative, subject to change.)
7:30 AM

Registration/Breakfast Buffet

8:30 AM

Welcome Comments
Dan McAllister
Treasurer-Tax Collector
County of San Diego

8:45 AM

Go or No-Go? Is It Time for Your Bond Election?
Recent bond authorizations have largely been approved by voters and are a critical first step to getting projects built. This panel will help guide you through an election, the recent state Supreme Court ruling on citizen ballot initiatives, and considerations when deciding to bring a bond before voters.

Moderated by:
Scott Lewis
Editor in Chief
Voice of San Diego

Panelists:
Alex Evans
Senior Principal
EMC Research

Joy Tatarka
Partner
TBWB Strategies, San Francisco

Tom Shepard
President & CEO
Tom Shepard & Associates, Inc.


9:45 AM

The ABCs of Municipal Bond Pricing
Bond pricing has been described as both an art and a science. This panel will discuss the decisions you and your municipal adviser will need to make for a successful sale, including choosing between a negotiated and competitive sale, what happens during a negotiated pricing, and what investors care about.

Moderated by:
Tom Paolicelli
Chief Deputy Treasurer
San Diego County Treasurer-Tax Collector's Office

Panelists:
Nat Singer
Senior Managing Director
Swap Financial Group

Betsy Kiehn
Managing Director
Stifel

Chris Mukai
Managing Director
Citigroup


10:45 AM

Break

11:00 AM

Alternative Financing for Issuers
Considering a negotiated bond underwriting? Other financing alternatives may be more cost effective. The panel will discuss options you can consider like bank loans and pooled loan programs through the state, including GO SAVERS and SRF loans for water and sewer issuers.

Moderated by:
Lakshmi Kommi
Director of Debt Management
City of San Diego

Panelists:
James Hamill
Managing Director
California Statewide Communities Development Authority

Simon Gutman
Vice President
Barclays

Jonathan Millard
Senior Vice President and Market Leader
Bank of America Merrill Lynch


12:00 PM

Lunch is served

1:00 PM

The Importance of Municipal Disclosure

Bill Bothwell
Partner
Orrick


1:30 PM

Getting Your Message Across
You can tell your story most effectively. Communicating with investors and rating agencies can make a difference in your ratings and your bond pricing. This panel will focus on the benefits of investor outreach and what matters to the rating agencies and investors alike.

Moderated by:
Michelle Issa
Senior Managing Director, Partner
Public Resources Advisory Group

Panelists:
Colin MacNaught
CEO & Co-Founder
BondLink

Stephen Walsh
Director
Fitch Ratings

Matt Buscone
Executive Vice President, Portfolio Manager
Breckinridge Capital Advisors

Kim Nakahara
Senior Research Analyst, Municipal Fixed Income
Wells Fargo Asset Management; Wells Capital Management


2:30 PM

Program Concludes
Payment Information
An invoice will be sent to the email address provided during registration. Checks can be made payable to "San Diego County Symposium Fund" and mailed to:
County Treasurer-Tax Collector
Attn: Symposium Coordinator
1600 Pacific Highway, Room 102
San Diego, CA 92101
Credit card payments are not accepted at this time. Although no refunds or credits will be given for cancellations, you may opt to send a substitute from your organization.
County of San Diego employees may pay via DART transfer.
For additional information, please contact:
ttcsymposiums@sdcounty.ca.gov
619-685-2546