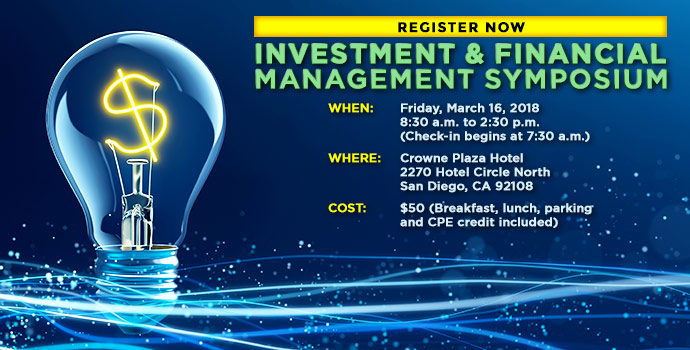 This symposium is designed to prepare local public officials and their financial teams to better deal with current and future investment issues that directly impact their day-to-day work. This is an opportunity to hear from economists and other financial experts to help you make sense of the markets and to hear from your peers about issues they are facing.
Registration has closed.
Join our email list to receive information on future symposiums.
See what your peers are saying about our Symposiums!
Agenda
(Tentative, subject to change.)
7:30 AM

Registration/Breakfast Buffet

8:30 AM

Welcome Comments
Dan McAllister; Treasurer-Tax Collector; County of San Diego

8:45 AM

Economic Update
What is the outlook for interest rates given the changing political and economic climate? How will recent tax law changes impact the economy? Stifel strategist Jon Hyman will discuss the key factors influencing the markets.

9:45 AM

Common Mistakes of Municipal Investment Programs
What are the common mistakes of municipal investment programs, and how can you avoid these pitfalls? San Diego County's Investment Advisor, Rick Phillips, shares his strategies to enhance portfolio management.

10:45 AM

Break

11:00 AM

County Investment Pool Review
How are the funds in the San Diego County Investment Pool being invested? How does the pool manage its investment credit risk? Whether you are a current pool participant or are thinking about investing in the pool, the San Diego County's investment team shares their process and strategy for maximizing returns and minimizing risk to deliver a cost effective way to invest public funds.

Panelists:
Hank Kim, Chief Investment Officer, County of San Diego
Cameron Urquhart, Investment Officer, County of San Diego
R.C. Kinzly, Investment Officer, County of San Diego

12:00 PM

Lunch is served

12:30 PM

Keynote Speaker
Steve Westly is the former Controller and CFO for the State of California and helped guide online auction company eBay through its period of most rapid growth. His industry-leading venture firm The Westly Group focuses on capital-efficient, high-growth companies in the sustainability, sharing economy, and the Internet of Things spaces. His company has invested in 33 portfolio companies, including Tesla Motors. Join us as he discusses his perspective on global economic phenomena.

1:30 PM

What keeps you up at night?
Do you ever wonder what keeps your peers up at night? Find out how they are tackling key financial management challenges. The panel will discuss their experiences and best practices on key issues. This will also be an opportunity to have a dialogue with the panelists about what financial issues you are thinking about.

Moderated by:
Joan Bracci, Financial Policy and Planning Manager, County of San Diego

Panelists:
Scott Patterson, Deputy Superintendent of Business Services, Grossmont Union High School District
Lisa Marie Harris, Finance Director, San Diego County Water Authority
Lauren Warrem, Treasurer and Director of Finance, City of Vista

2:30 PM

Program Concludes
Payment Information
An invoice will be sent to the email address provided during registration. Checks can be made payable to "San Diego County Symposium Fund" and mailed to:
County Treasurer-Tax Collector
Attn: Symposium Coordinator
1600 Pacific Highway, Room 102
San Diego, CA  92101
Credit card payments are not accepted at this time. Although no refunds or credits will be given for cancellations, you may opt to send a substitute from your organization.
County of San Diego employees may pay via DART transfer.
For additional information, please contact:
ttcsymposiums@sdcounty.ca.gov
619-685-2546
Test