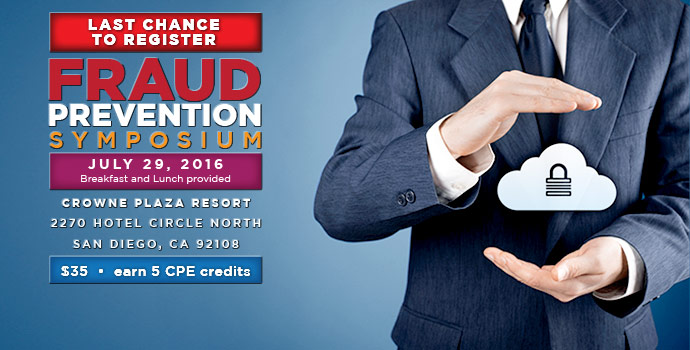 This Fraud Prevention Symposium is designed to provide local public officials and their financial staff members the opportunity to gain knowledge in the following subject areas:
Fraud overview
Cyber crime
Establishing a fraud hotline
Fraud case studies
Insurance fraud schemes
Registration has closed. No on-site registration is available.
Agenda
7:30 AM

Registration

Breakfast Buffet

8:15 AM

Welcome Comments

Dan McAllister
Treasurer-Tax Collector
County of San Diego

8:30 AM

Fraud in Government Agencies

An insider's perspective from the federal level highlighting recent San Diego fraud case studies and lessons learned. Our speaker will discuss a wide variety of fraud schemes including procurement fraud, bribery, embezzlement and identity theft.

Moderator:
Dan McAllister, Treasurer-Tax Collector
County of San Diego


Speaker:
Valerie H. Chu
Assistant United States Attorney
Major Frauds and Special Prosecutions Section
The United States Attorney's Office, Southern District of California

9:30 AM

"Is your organization fully prepared to fend off a cyber-attack?"

Cyber-crime is on the rise worldwide. In fact, stories of cyber breaches seem to surface nearly every day. Our speaker, Chris Christopherson is a Cyber-Special Agent with the FBI and will offer ideas and insights into cyber fraud cases he has investigated.

Moderator:
Eric Dill
Associate Superintendent of Business Services
San Dieguito Union High School District

Speaker:
Chris Christopherson
Cyber Special Agent
The Federal Bureau of Investigation, San Diego Division

10:30 AM

Break

10:45 AM

"Do you have a fraud hotline? If not, why not!"

Establishing a fraud hotline to provide an outlet for anonymous and confidential whistleblower reporting is essential. Our two speakers will provide best practices and case studies that you can take back to your organization.

Moderator:
David Wiggins
Fraud Hotline Manager
Office of the County Counsel
County of Orange, California

Speakers:
Eduardo Luna
City Auditor
City of San Diego

John Cashmon
Director of Internal Audit
San Diego Unified School District

11:45 AM

Lunch is served

12:00 PM

In 2013 a small-town city official by the name of Rita Crundwell was sentenced to almost 20 years in federal prison for stealing at least $53.7 million from the City of Dixon, IL. The extent of this municipal embezzlement is nearly unprecedented. Fraud and theft can occur in any public agency at any time.

Matt Pearce, a National correspondent for the Los Angeles Times has written extensively about this case and he will walk us through the details of this massive theft of public funds. Since joining the LA Times in 2012, he has covered the biggest news of the day – natural disasters and mass shootings, the protests in Ferguson, Mo., and most recently, the Republican National Convention.

Moderator:
Dan McAllister
Treasurer-Tax Collector
County of San Diego

Speaker:
Matt Pearce
National Reporter
Los Angeles Times

1:00 PM

"What you don't know about Workers' Compensation Fraud that can cost your public agency millions!"

Worker's Compensation Fraud continues to be one of the fastest growing crimes in San Diego County. In this session we are pleased to present local experts who will provide examples of local public agency fraud cases and share ways to reduce your organization's risk.

Moderator:
Jesse Navarro
Special Assistant to the District Attorney
San Diego County District Attorney's Office

Speakers:
Dominic Dugo
Chief
Insurance Fraud Division
County of San Diego – District Attorney's Office

Sam King
Vice President
Fraud Investigations Department
Employer's Insurance

Dalene Bartholomew
Vice President
Probe Information Services, Inc.

2:00 PM

Program Conclusion
Venue Information & Parking
Crowne Plaza Hotel
2270 Hotel Circle North
San Diego, CA 92108
From I-8 East
Exit on Taylor Street
Take a left to cross the bridge over I-8
Follow the road as it veers right onto Hotel Circle North
The entrance to Crowne Plaza is on the left
From I-8 West
Exit on Taylor Street
Take a right to Hotel Circle North
The entrance to Crowne Plaza is on the left
The symposium will be held in the Coral Reef Harbor Room on the west side of the property. As you enter the parking lot, it will be on your right.
Parking is free for symposium attendees. As you enter the lot, pull a ticket to raise the arm at the attendant booth. We will provide a validation ticket during check-in. As you exit, scan the ticket you pulled, then the validation ticket, and the arm will lift and allow you to exit.
Parking nearest to the Coral Reef Harbor Room may fill up. Overflow parking is available to the rear of the complex, continuing around to the right.
Payment Information
An invoice will be sent to the email address provided during registration. Check or money orders can be made payable to "San Diego County Symposium Fund" and mailed to:
County Treasurer-Tax Collector
Attn: Symposium Coordinator
1600 Pacific Highway, Room 102
San Diego, CA 92101
Credit card payments are not accepted at this time. Although no refunds or credits will be given for cancellations, you may opt to send a substitute from your organization.
County of San Diego employees may pay via DART transfer.
To register groups or for additional information, please contact:
Mike Clayton
619-685-2546
mike.clayton@sdcounty.ca.gov