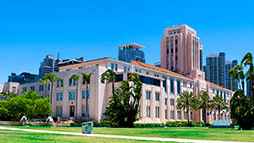 Less Than a Week to Pay Property Taxes; Paying by E-check is Fast & Free
12/07/22
Collection rates down from last year; residents urged to pay before December 12 deadline to avoid penalties
SAN DIEGO, CA, December 7, 2022 – San Diego County Treasurer-Tax Collector Dan McAllister is reminding property owners that there is less than one week to pay property taxes or face penalties. The first installment of the 2022-2023 secured property tax bill is due no later than December 12th.   
"There is less than a week left to pay your property taxes. Payments received after     12 midnight on December 12th will incur a 10% penalty," said McAllister.  
"In September, the Treasurer-Tax Collector's office sent out 1,011,364 tax bills, which are expected to generate $8.06 billion for the County of San Diego. So far, we have received just over 47% of first installment payments. This is down from last year, so we are doing everything we can to implore those who haven't paid yet to do so soon. We don't want homeowners paying any more than they owe," continued McAllister.  
"Please go to sdttc.com to find the information you need to pay on time," said McAllister. "More than 70% of San Diego taxpayers now pay electronically because it is secure, fast, and easy."  
Payment options and deadline details: 
Pay by e-Check – Go to sdttc.com and pay before midnight, Dec. 12th. 
Pay by mail - Obtain USPS postmark and mail your payment before/on Dec. 12th.  
Pay by phone or in person - Payments can be made by phone at 855-829-3773 or in person by visiting any of the five branch offices before 5pm, Dec. 12th.  
Property taxes fund schools, libraries and other services provided by local cities and the county. Click here to see how taxes are allocated.