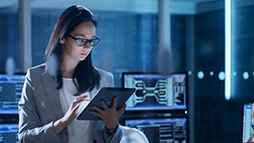 Treasurer-Tax Collector Dan McAllister Updates Investment Policy to Consider ESG Investments
03/02/22
Updated investment policy prohibits County from investing in securities in the fossil fuel industry
San Diego County Treasurer-Tax Collector Dan McAllister joins the growing movement by government agencies to consider environmental, social and governance (ESG) factors when investing public funds. The San Diego County Investment Pool, which reached $13.58 Billion in January 2022, reviews its investment policy annually and updates it as needed. 
This year's update will consider ESG practices when evaluating securities aimed at maintaining or improving financial performance while promoting social and environmental goals to benefit constituents.
"Environmentally friendly and socially responsible approaches that also meet our objectives of safety, liquidity and yield to investing public funds is important to San Diegans, and as such, will be a part of our investment strategy moving forward," McAllister said. "Our efforts to seek environmentally sound and socially responsible investments with a more sustainable approach aligns with what we already know: that protecting our environment is a top priority for San Diegans." 
Board Chair Nathan Fletcher voiced appreciation during Tuesday's Board of Supervisor's meeting, stating, "This amendment puts our money where our values are." 
"The County Board of Supervisors approved the updated Investment Policy prohibiting any investments issued directly by a corporation that engages in the exploration, production, drilling, or refining of coal, petroleum, or natural gas," McAllister continued. "Securities that demonstrate principles and environmental goals which align with the County's General Management System embedded across the County departments are attractive options for our Investment Pool."
The San Diego County Treasurer-Tax Collector's Office is governed by the California Government Code that directs the investment pool's key objectives: safety, liquidity, and yield to provide the residents, agencies, and San Diego County with superior financial services. The County's Investment Pool has consistently received the highest AAA rating for the last 22 years. The County Treasurer invests money for over 200 local public agencies that includes all 42 K-12 school districts, 5 community colleges, and over 160 other agencies.